It looks like something straight out of a child's wildest dreams: a tiny house filled with swings, slides, tumbling mats, and play equipment galore.  The house, which is only 30 feet long and 8 feet wide, sits atop a gooseneck trailer and is pulled by a large, black truck.
The owners of this creation have dubbed it the "Tiny Gym," and they're ready and willing to bring it right to the doorsteps of schools and daycares across South Carolina.
Introducing "The Tiny Gym"
Mitzi Perkins and Jeremy Limberger are the creators and owners of the "Tiny Gym" and the business GO Play.  Their Facebook page states, "GO Play is a fitness and education program for kids! Our "Tiny Gym" is a mobile facility designed to be a safe and fun environment for children, ages 18 months to 12, to develop and improve the skills required for a healthy and fun lifestyle." 
The Tiny Gym is definitely one-of-a-kind. "You can explain and describe it to people, but they don't really understand until you show them pictures," said Mitzi during an interview with B&W. 
Mitzi and Jeremy tow their Tiny Gym with a B&W Turnoverball gooseneck hitch.  They're very pleased with the versatility the Turnoverball gives them.  "With the truck and the hitch, you can unhook the trailer, flip the hitch over, and you have a truck with a flatbed that you can use for your family," said Jeremy.  
Fit for Success 
With their GO Play business, Mitzi and Jeremy combine fitness, creativity, and learning into one big adventure.  "We'll switch out the equipment in the gym weekly so it's a new environment every time the kids come in.  One week we might have a bouncing theme or teeter-totters.  One week could even feature a climbing wall," said Mitzi.  Jeremy added, "We'll also do creative types of themes, like superhero training, the jungle, or firefighters."  
They incorporate an educational and creative side to their workouts as well, Jeremy explained.  "With each weekly theme, we teach something like new vocabulary words, colors, or counting."  
From Tumble Buses to Tiny Gyms – It's All in the Family 
This business might sound daunting, but the Mitzi and Jeremy aren't intimidated; they have plenty of support and konw where to go if they need advice and support.   
Mitzi's parents, Kitty and Dan Perkins, own and operate a business called TUMBLEBUS which is very similar to GO Play.  The Perkins teach fitness classes for kids inside their 6 Tumblebuses, or school buses that have been converted into mobile gyms.  "The idea for our Tiny Gym came from my parents," Mitzi explained.  
Jeremy and Mitzi worked with Mitzi's parents at TUMBLEBUS for several years, and during that time they developed the idea for their own Tiny Gym. "We loved the idea of the Tumble Buses, but I'm a taller guy and I wanted something that I could stand up straight in without hitting my head," Jeremy explained.  That's where the tiny house idea came into play.  
Jeremy used to work in the real estate industry and during that time he became very interested in tiny houses. "The tiny house scheme lends itself to lots of possibilities because you can make all sorts of things mobile – restaurants, art studios."  
So, Jeremy asked himself, why not transform a tiny house into a mobile gym for kids?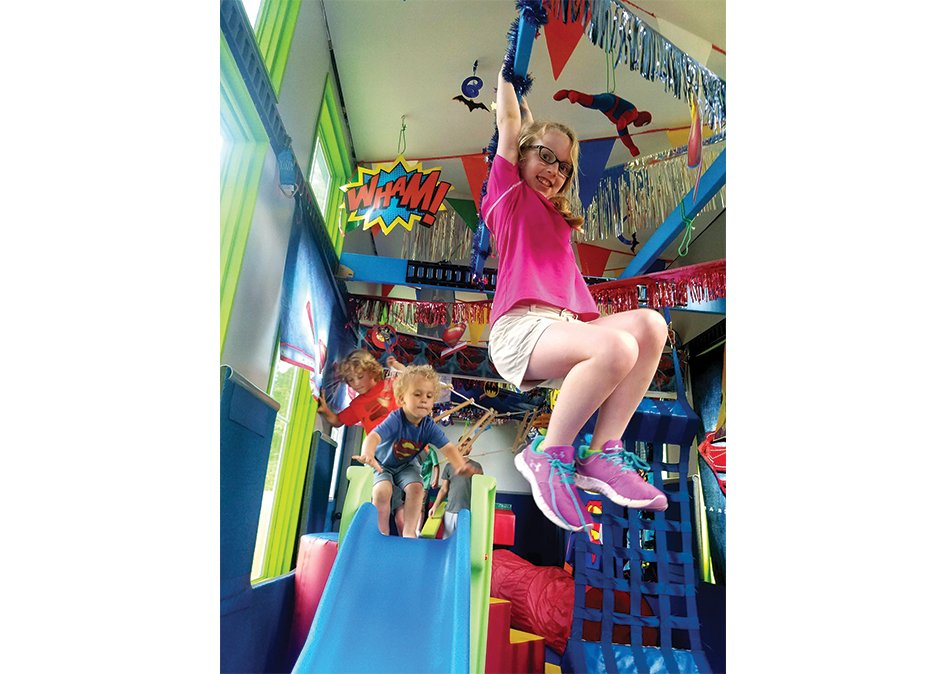 Jumping Through Hoops 
Getting their business and Tiny Gym to this stage of functionality been a long process.  Mitzi and Jeremy hired a contractor to build the outside of their tiny house and then customized the inside themselves.  However, Mitzi explained that the real challenge came with insuring it.  
"We had to jump through a lot of hoops to get it insured.  Insuring a trailer is one thing, but when you tell the insurance companies that you are towing a tiny house with a gym inside of it, they say 'Wait, hang on there.'"  
The young age of their target audience can also be a challenge, Jeremy said.  "The social media side of things is a little bit difficult because our average customers are going to be 2-3 years old; they're not going to have Facebook, Twitter, or Instagram yet."
A New Brand of Fun
Once the Mitzi and Jeremy start spreading the word about their Tiny Gym, it's bound to give the traditional playground a run for its money. "The equipment at playgrounds is fixed and kids see the same things every day.  With our gym, the kids can move things around and we can switch out our equipment," Jeremy explained.
The advantages don't end there.  "If you're in an area with lots of rain or a poor climate, the kids can't go play outside.  Our Tiny Gym is climate controlled with heating and cooling, so the kids can go play in it no matter the weather."
The fact that the gym is in a separate facility from the schools is also beneficial. Children can play and be loud in the Tiny Gym while other kids are inside the school napping.  This often provides a well-needed break since the children are expected to be quiet while indoors.  
Where Fitness and Fun Collide  
Mitzi and Jeremy firmly believe in the importance of children's fitness.  Mitzi explained that working at TUMBLEBUS allowed her to see the benefits of childhood fitness firsthand. "The kids looked forward to seeing us each week.  It was a motivation for them." 
Parents and teachers also noticed a positive difference in their children.  The children were more willing to get ready for school on the days when the Tumble Bus was coming, and after workouts they had better focus and concentration in the classroom. 
Mitzi and Jeremy hope that the Tiny Gym will help children develop an early appreciation for physical activity.  Jeremy explained, "We want to show kids that exercise doesn't have to be something grueling.  It can be fun."  
One Down, More to Come 
GO Play is still young, but once Mitzi and Jeremy have enough customer interest, they plan to expand.  "Ideally, we want to start with general fitness and then expand and add more sport-specific trailers designed for things like soccer, basketball, ballet, and martial arts."  
They'll also use their gyms for charitable purposes and will set up for free play at community fundraisers, festivals, and fun runs.  Going to these events will give their business good publicity as well. 
Although Mitzi and Jeremy's work can be difficult to explain, the benefits and opportunities it provides to children, families, and communities are bountiful.  Jeremy summed it up best when he said, "We absolutely love what we do, and we love to see the positive impact it has on kids."  
To learn more about GO Play and the Tiny Gym, visit https://www.goplayfitness.com/ or like the GO Play Facebook page at https://www.facebook.com/GOPLAYfitness/ .